15 Sep

Virtual Assistant Start up | Wondering If You Have What It Takes?
Ever wonder if you've got what it takes to freelance, or become a virtual assistant?
Chances are you already have a ton of skills you likely may under estimate, that are lucrative and ready to be packaged to support businesses near and far.   It's amazing how easy it is to downplay or under cut your skills and special gifts when you have a certain mindset.
Here's a bit of logic to help you think a bit 'out-of-the-box' and take practical inventory on what you know, and how in demand those skills really are:
Chances are you are possibly one of the millions of people that currently have a profile, or have accessed a social media platform during your journey on this big beautiful blue marble. From: Facebook, LinkedIn, Instagram, Youtube, Twitter or Pintrest.  Everyday, corporations are looking for Social Media Specialists to maintain their social media profiles, giving them more time to focus their attention on their day-to-day operation. If you love social media and are posting on Facebook, Pintrest, Instagram and even Youtube chances are you can break into the industry with just managing social media or a platform of your choice. Kick it up a notch and learn about ads so that you can support local or online businesses that are just too busy and need to outsource. Starting rates for this service are on average: $597 USD. Create and customize your own program packages.
Ready to start you Virtual Assistant Business?
Pick up your free startup guide and start doing what you love, while you get paid.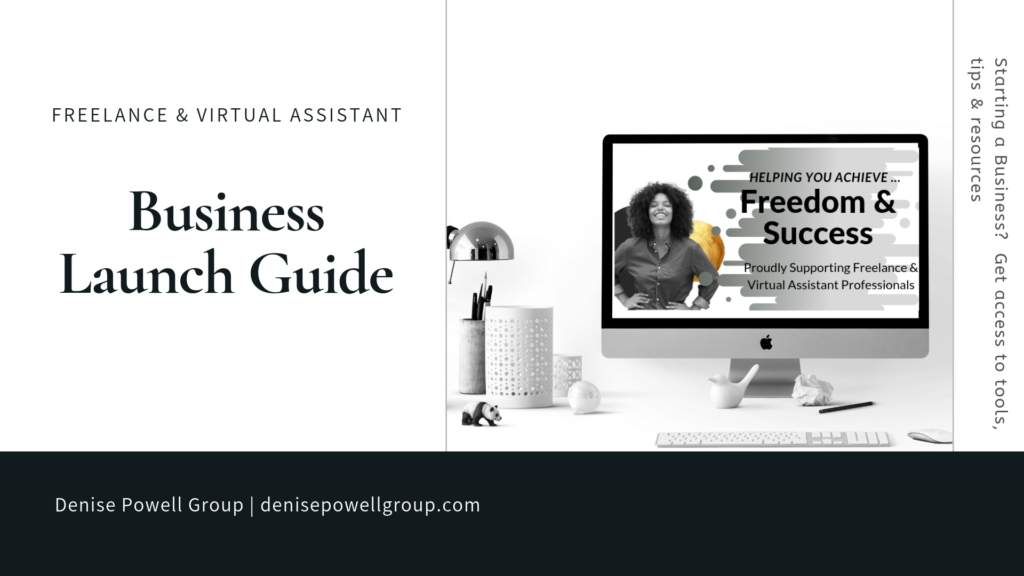 You've most likely sent or received emails at some point in your life, both socially or professionally. If you love correspondence and can communicate effectively, there are tools that are free and geared to help you create beautiful emails which can support businesses trying to get the word out about their programs or keep in touch with their audience. One of the most valuable connection points for any business is interest received via an email subscription. Check out Mailchimp or Get Response for starters and learn how they operate and can be used. You don't have to have an account – your client does! There are a ton of free tutorials that can help you get started and do most of the ground work. Create a package for your clients to be, and get to work. Packages typically start at $897.
We're happy to connect with you!
The one email you'll want to receive …you'll look forward to this one 
Every job out there has an element of Customer Service to it either directly deal with external clients/customers or internally working with different departments, levels of management etc.. Your ideal client may have a ton of online inquiries, and need help with a personal touch that a bot can't provide. Monthly packages for this service start at a set number of hours per month, and can be applied to an hourly rate. Working from home – you decide.
Entering information into templates, converting information from hard copy (paper – shame) to soft copy / electronic file. Whether your Transcribing meeting minutes into the company directory, updating client contact data or transfering data from hard copy to electronic – typical packages start at an hourly rate $16 USD and up depending on the amount of data.
There are some companies that use automated answering services, but there are still quite a few that rely on the help of 'personal touch' for their clientele as they prefer human interaction for their clients. With VOIP systems that are internet based you can work from anywhere and provide exceptional support to your clients audience with Virtual Reception work.  Packages are typically a set number of hours per month, and you can decide on your hourly rate.
So, these are just a few examples of skills in demand that you can turn into services –  jump start your online business.
I Just thought I'd create this little Vlog/blog to help someone out there really understand that they can do incredibly amazing things – you've got it in you!
There are a wealth of possibilities when it comes to creating your online business that  requires you to do some self investment in learning about options of tools/resources that are available and sometimes free. Even if they aren't, your client will already be using software which you'll have access to – you learning curve is easily crushed on tutorials which are already out there.
Active learning (which is on-going for ever and ever, as the world  is ever changing) all the time. The landscape of work is changing and starting your own business as a Virtual Assistant or Freelance professional is a great way to make a positive mark in the market place.
Connect with online  groups, masterminds and networks that are ACTUALLY doing it! Strength in numbers – harness the power of community.
Pssst – we're happy to connect with you!
Join our online community of Freelancers & Virtual Assistants on Facebook
For questions on starting your own Freelance or Virtual Assistant feel free to connect with me via email.
Denise Powell Group  |  denisepowellgroup.com | hello@denisepowellgroup.com
You may truly want to serve "everyone" in the world. But, in reality not everyone is in need of what you're offering… (facts). In the end, the sooner you establish "who" your ideal clients are, the better off you'll be. No more wasting money on marketing ads that get ignored, no more time wasting on 'pitching' to the wrong people.
September 3, 2021