Everyday more professionals are learning that starting a freelance or virtual assistant business is a lucrative market to creating extra income, creating a great lifestyle of #WFA (Work-from-anywhere) and build a strong scale-able business with unlimited opportunity and potential.
The truth is – sometimes creating an opportunity that thrives is better than waiting for one to appear. Hard work is involved in getting started, because there's a learning curve. We all went to school to learn how to be employee's essentially.  Even those with MBA's can struggle and fail at starting a business.  But, you can get great results as a business owner freelancing and providing virtual support remotely or for your local community with the right support and mindset.
If you've wondered how to get started – then wonder no more …
I've spent years supporting corporation during my career as a project manager. I've also had the pleasure of supporting entrepreneurs and small business owners actively taking part in growing their businesses. One thing that I've learned is this – Action = results.
Making a decision, should not be debilitating.
There are many people that can spend weeks, months and even years trying to make a decision on whether or not they will get started in actually pursuing their goals (Yes, years). It's not uncommon. For some they've convinced themselves that they can't do it because they lack the education, or refuse to try because there's a fear of failure.
But, I'm going to tell you this:   Get out of your own way!
You are totally capable of living the lifestyle you dream of, with some self learning (life is learning), determination (yes, work is involved, it won't happen by itself), and a structured plan that can support  you step-by-step through each phase of your progress.
Ready to start you Virtual Assistant Business?
Pick up your free startup guide and start doing what you love, while you get paid.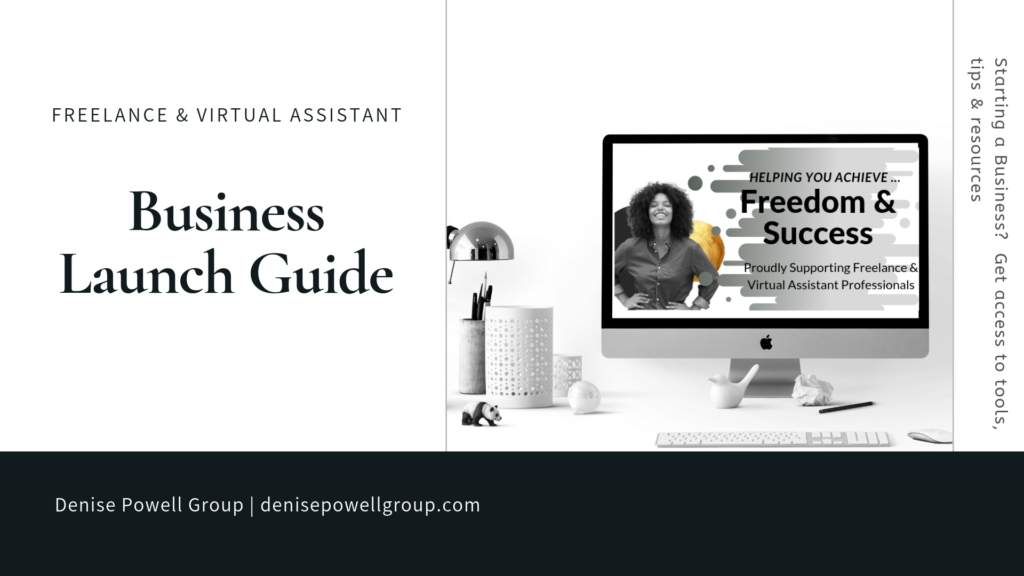 Your experience is valuable.

You're 'speak', and personality provide a unique take on making a connection with a potential client.

You're allowed to be yourself.

You are capable of learning just about anything. Be committed

Life is learning – that's all apart of the journey. Make your learning deliberate.
We're happy to connect with you!
The one email you'll want to receive …you'll look forward to this one 
So, with all that said – What is truly stopping you from starting to freelance or become a virtual assistant?
If you think you can't, then you won't … but if you think you can, then you will!
Action = results
My name is Denise Powell and I help freelancers and virtual assistants actualize their full potential in starting and scaling their own business, with step-by-step training and support.  You're not alone – let me know if i can help
For a list of frequently requested services (which you can implement right away for yourself) check out the
"2019 Top Services in Demand For Freelancers and Virtual Assistants"
Claim Your Free Download
Pssst – we're happy to connect with you!
Join our online community of Freelancers & Virtual Assistants on Facebook
For questions on starting your own Freelance or Virtual Assistant feel free to connect with me via email.
Denise Powell Group  |  denisepowellgroup.com | hello@denisepowellgroup.com