17 Sep

Create Opportunity Series: 08 Starting an online business? Get your experience, special skills and talent working for you.

Using your experience, talent and passion to start an online service based business is one of easiest businesses you can start as your using your natural ability to help others based on what you already know. You're building a business around what your already providing to a 9-5, only now you can streamline it into  specialty services to create your very own online service based business.

Don't go tripping over the fact that you've never flown solo before. Thousands (most likely more…), have done it – and you absolutely can too!

Not quite sure if starting an online business for yourself is even 'doable'? Maybe you've tried, but just weren't sure, what is in demand, how to assess your experience, how to get started, or hit a roadblock and not sure what step comes next – this training is for you

Take stock of what tasks you've been responsible for in the past or currently. What industries and niches your 9-5 experience you've supported. Whether you've been an administrative assistant, sales coordinator or marketing assistant – you have skills that are transferable to starting an online business of your very own and are in demand right now.

I would suggest that you keep this process as simple as possible because so many people start racking their brains on assessing their skills, reviewing impactful tasks and jobs they've had in the past and trip over the fact that they can 'package' and sell tasks as an online service provider to support other businesses over and over again all from the comfort of their own home.

All roads need to meet, right here: WWW,H
All roads need to meet, right here: WWW&H
Define "What" you're great at, Identify "What" people actually need support with, "Where" you'll service and implement "How" you'll deliver your awesomeness.
If you haven't already done so – grab a copy of my latest resources The Online Business Planner which is over 20 pages of step-by-step instructions for you to apply directly to your business helping you get started and get some leads through organic best practices.
You may be wondering, "Why start with the what …"?  Ideally, it's because you need to know what you can package into a service based on your skillset, experience and talent. There are so many services that you can offer based on transferrable skills that, it's best to start with 1 to 3 that you can do with ease.
Next there's the 'what' people need …
What are the services that are in demand? What do they need? Freelancers, Virtual Assistants and Online Service Professionals have a ton of skill. They can pick, choose and refuse what type of work they want to do, and what they don't want to do. But it's always a good to know – what is in demand. This means that regardless of industry, what services are always in demand? What type of help are businesses looking for ?
The Top 20 Services in Demand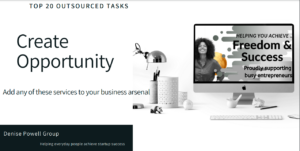 For a list of the "Top 20 Services in Demand" right now – grab a copy of my free guide and add any of these to your service offering.
Don't forget to connect to my weekly live discussion series "More than Coffee …" for new entrepreneurs getting started in their online business from quick tips, Q&A, motivation and hot topics to help you keep moving forward.  Saturdays at 11AM EST. Click here to Register
If you're looking for a place to share your services and tell your story – visit the Online Boss Network. For a Limited time I am offering a free spotlight feature to help people gain authority, build awareness and share their online news. Get registered & get connected.
Join me for "More than Coffee …" Live Event

My name Denise Powell and I help online newbies, create thriving online businesses from scratch doing what they know and love. Helping everyday people tap into their experience, skillset, and talents to create profitable businesses that they can scale organically is not an easy undertaking. With experience and successful methodologies, I help "action takers" accelerate their results and create the freedom they desire.