01 Sep

How to Start a Freelance or Virtual Assistant Business

Ready to start your Virtual Assistant business? You may think it's easier said than done – but, don't get overwhelmed with thoughts of how to get started. It's been done, and you are so able to do it too!

It's not magic! There's are tons of info resources out there that can help you get started and scale. The problem is, is that some of these tools / tips can leave you more confused that before you started, and they can miss pertinent info that can leave you open to lost opportunities.

Well – If you have the know how – you do!  It's not about taking a 'giant leap' or creating something that will take years to get off the ground.  It's about taking practical steps of deliberate action to manifest your goals.

You don't need a MBA, nor a degree or years of managerial experience. Some of the greatest minds are the typical 'worker bee's' getting things done everyday for the organizations they support with the skills that are in very high demand.

Let's take a look at a few things that can help.
Change your mindset

Take Inventory of what you know & what you like to do

Life is a Learning Library – stay committed to learning

It's already been done – now it's your turn
This is the biggest learning curve you'll be thrown, as the mind is a powerful tool. The way you think about what you know and how you 'see' yourself has allot to do with your drive forward, how you see yourself and how you perceive future success.
When it comes to "your drive forward" you have to know yourself and what it takes to keep you motivated. It's more than just tapping into your 'why factor' on your reason for partaking in this adventure. Are you a permission seeker? Someone who needs to be told what to do and how to do it?  A visionary stuck in research mode? Or someone with a small support network that you absolutely need to vent to at every stage of your business development?
Understand this – When you choose to participate in the entrepreneurial journey, YOU need to strive forward by making the decision to do so. Your network can only encourage you so far, your mentor can only tell you what to do, so far – YOU need to decide how you will keep yourself focused deliberately.
Ready to start you Virtual Assistant Business?
Pick up your free startup guide and start doing what you love, while you get paid.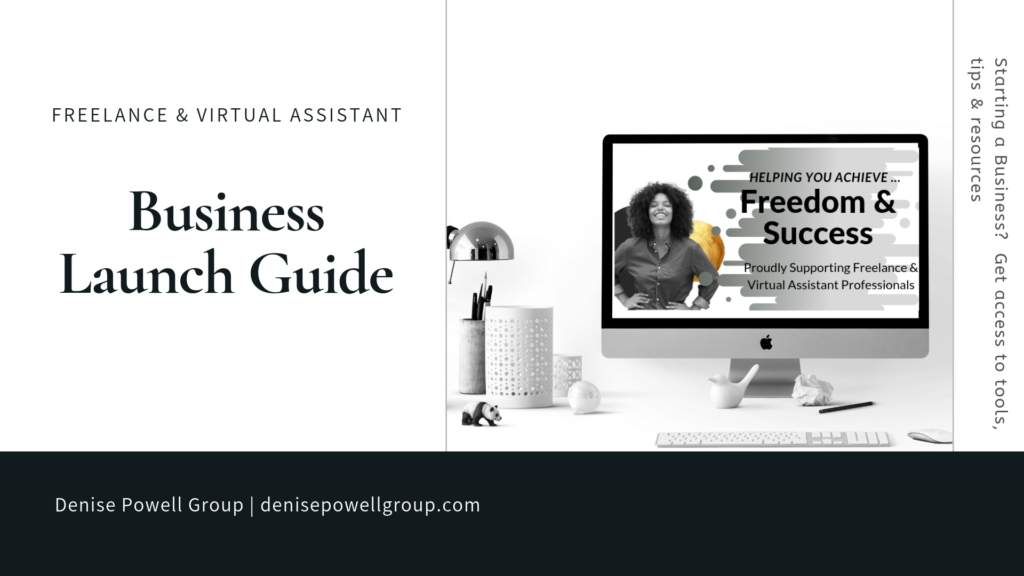 Take Inventory of What you Know & What you like to do:
Ever wonder if you have skills that are in high demand? Check out my list of Top 20 Freelance Skill currently in demand for 2019If you've had a job, you've got experience.
If you've never worked a day in your life, you've survived by soft skills that are also valuable.
Taking stock of what you know, does not have to reflect an overly 'technical' capacity.
From online Reception and Data Entry to Sales Mentoring
From Marketing and Lead Generation to Website Design and App Creation
From Graphic Design to Video Editing
There are a ton of opportunities that you can engage in to create your desired lifestyle and manifest success.
We're happy to connect with you!
The one email you'll want to receive …you'll look forward to this one 
Life is a Learning Library
Guess what? You will continue to learn new skills and gain more experience everyday you're blessed to participate in life. You are an 'Ever Learner' – it comes with the territory.
Learning formally  and informally comes with the territory. You do not have to invest in expensive courses and you can access a wealth of knowledge through Google and Youtube alone.
If there's a skill that you'd like to learn to help you to help others – just do it. Practical step by step instruction can help you do more for your skill set inventory as you make the decision to move forward.  You're call the shots and are completely in the drivers seat!
Grab a copy of our Learning Journal which is a personal outline that you create to help you move forward with your goals of entrepreneurial freedom.
Online freedom is not a pipe dream as there are literally thousands or more with established successful businesses providing Freelance and Virtual Assistant services in Canada and the USA.  You're not alone – and this big blue beautiful marble is big enough for one more.
Take a look at the various businesses already in existence. Perhaps they only support a specific niche or they only provide support for 3 super services that are enough to establish their business online successfully.
Do your research – but don't get stuck in research mode – only real action can help you to get real results.
Pssst – we're happy to connect with you!
Join our online community of Freelancers & Virtual Assistants on Facebook
For questions on starting your own Freelance or Virtual Assistant feel free to connect with me via email.
Denise Powell Group  |  denisepowellgroup.com | hello@denisepowellgroup.com